Introducing the Corvette Engine Bay Panels, by Classic Trim Customs the perfect complement to the design of your factory engine cover. Our panels are meticulously crafted to enhance the overall aesthetics of your C8 Corvette, creating a seamless and cohesive look that exudes style and sophistication.
What sets our Corvette engine bay panels apart is their key feature. Our panels were designed to fully cover the side all the way up to the hood hinge.  Our panels are fully customizable and come in wide range of colors to match the existing color palette of the C8 Corvette, ensuring a seamless integration with your vehicle's overall appearance.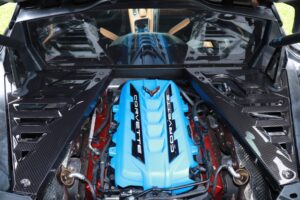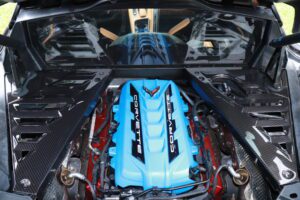 In addition to our color options, we offer two premium finishes: Sport Hydro Carbon Fiber and Forged Hydro Carbon Fiber. The Sport Hydro Carbon Fiber finish provides a sleek and modern look, while the Forged Hydro Carbon Fiber finish adds a touch of exclusivity and sophistication. Whichever finish you choose, our engine bay panels will instantly elevate the visual appeal of your Corvette.
Constructed from durable ABS composite, our corvette engine bay panels are built to last. They are designed to withstand the rigors of daily use and harsh engine conditions, ensuring long-lasting durability and reliability. Manufactured right here in the USA, we take pride in delivering exceptional quality that you can trust.
The Corvette Engine Bay Panels by Classic Trim Customs not only enhance the visual appeal of your engine bay but also reflect our commitment to precision engineering and attention to detail. Elevate your C8 Corvette to new heights with our customizable and high-quality engine bay panels. Experience the perfect blend of form and function, proudly showcasing your personal style and American craftsmanship.